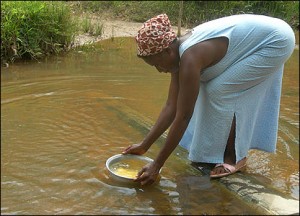 SHIPMENT FROM GHANA OR OTHER AFRICAN COUNTRIES
We are pleased to announce that DHL Cargo in Ghana is now shipping AU to the USA. As you know DHL is a high quality reputable company. Please Insure your shipment to guarantee safe arrival. Sellers can finally have peace of mind that their product will arrive safely to USA refinery.
.
When shipping samples to our refinery, seller can only ship from 1 to 5 kilos of AU. The requirement is that it must be Alluvial gold.  If it is not alluvial gold they won't ship it.
.
DHL will also ship regular shipments from Accra, minimum of 50 kilos AU. To recieve more information about shipping, please contact your local DHL shipping agent in Accra. Contact Julian Nii Lartey or the Airfreight Export Coordinator.
Tel 233 244 258 378
Our Buyer Shipping Procedures
In order to process the shipping of samples or regular shipments, we require the following information:
.
Please email or Fax a fully completed FCO with complete information about the Product, Quantity, Quality, Purity and Amount. The FCO must contain all your Company information, business address,  phone and fax numbers. If we accept the offer we will send you a letter of acceptance and request your banking coordinates to make payment to you.
.
We will then put together a Purchase Order stating all the terms in conditions. Once the purchase order is signed you will have a maximum of 8 days to ship the product. To insure safety we require all shipments to be made directly to the refinery.
.
As you know we use the largest most reliable refinery in the USA.  In order to guarantee arrival of your shipment, we ask that you consider using DHL or FEDX which ever ships from your area. Please insure all shipments for their total value.
.
Please ask us for New Seller Procedures. The Our Buyer is well known for their safety, reliability and integrity. They are very transparent and have been doing business with Suntrust bank since 1979. They are very easy to check out. Please note, only serious sellers contact us. To those who may attempt fraud, you are wasting your time.  We are wishing all of you the best of success.